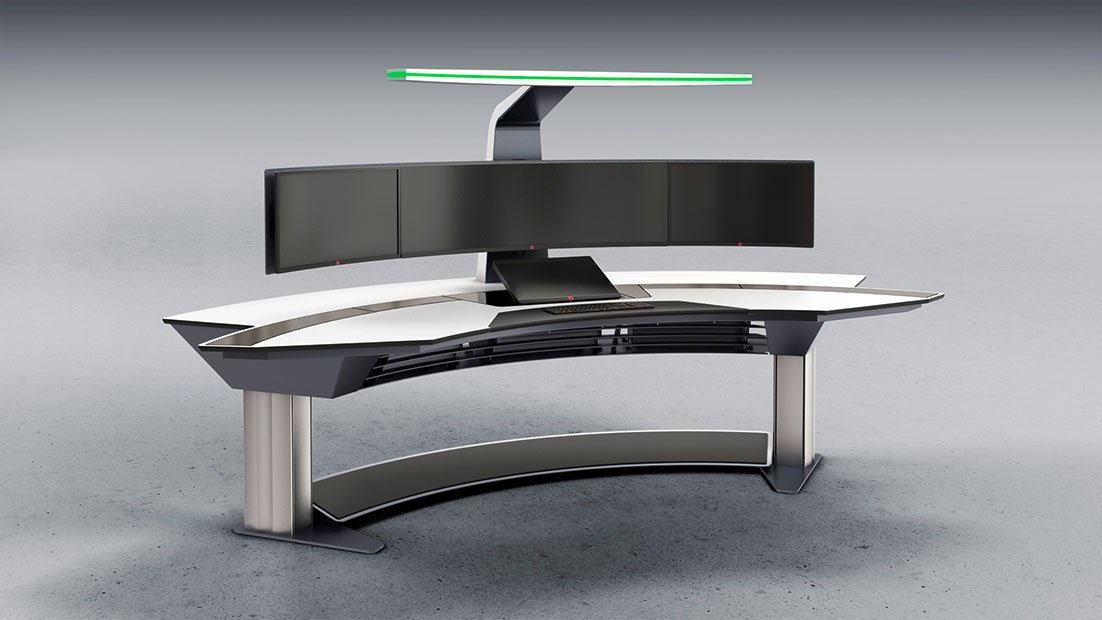 We see user experience as a holistic approach. For us, this does not stop at the optimum operating concepts for our software solutions, developed and implemented in conjunction with scientific experts and practitioners. The control center room plays an essential role in the user experience, as does a holistic design and, of course, the integration of the control center desks.
That's why we are pleased to help and advise you in the planning of your ideal control center room so that it meet your needs, and to equip it with the latest control center equipment.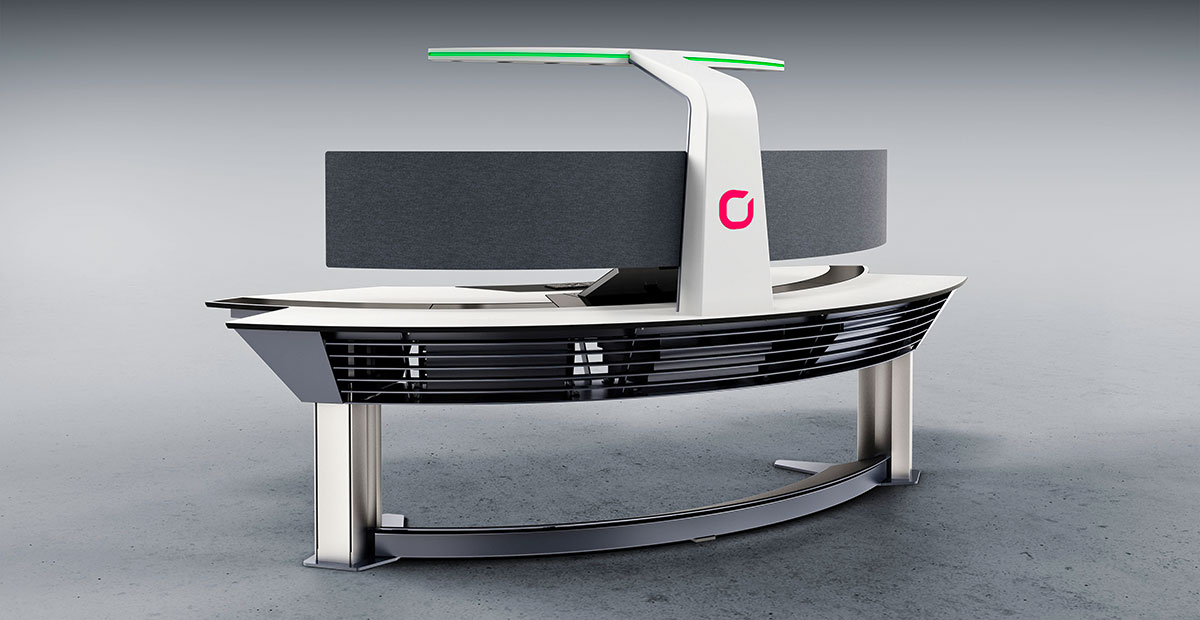 People-Centered Design
eDESK combines innovative but simple and elegant design with clear ergonomic and intuitively designed work processes. Individual components were merged into a complete Mission Control System, thus creating a carefully considered mix of virtual and real in the work environment.
Simple and elegant design

Elegant, height-adjustable monitor support for curved monitors

Individually configurable interface consoles

Interface panels with push-lock system ensure clear work surfaces

Uniform design extends to optional additions such as roll-containers and base cabinets

Exceptional legroom for any given sitting position

Ergonomically designed, integrated footrest

Compliance with all applicable European workplace standards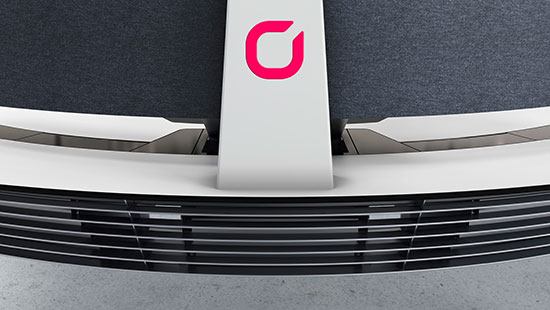 Generous space for technical components
eDESK not only captivates with its slim and minimalistic design, it also offers a generous storage space for the installation of up to 12HE (19-inch rack). This allows a high degree of flexibility when positioning and connecting components.
Light & Sound Bar
The innovative Light & Sound Bar unit highlights the integrated design approach taken with eDESK.
Up to 8 loudspeakers can be incorporated into the Light & Sound Bar. These can be combined into a single design element with both dimmable LED lighting and RGB LED indicators (e.g. busy/free).
With the audio output coming from above, there is less impact on the surrounding area and it is easier to recognize which control center workstation an audio signal has been assigned to.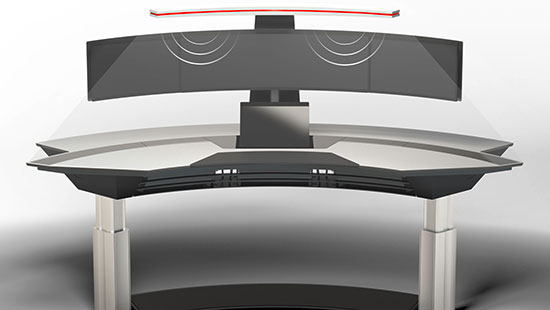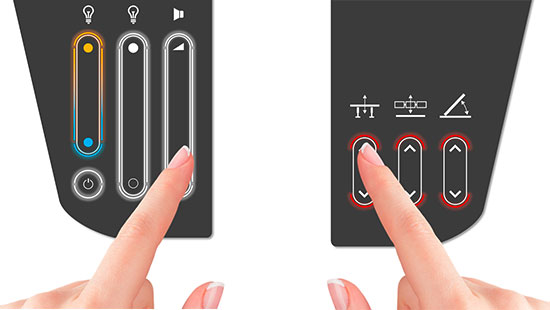 Touch control
Touch panels have been placed on either side of the central touchscreen for ease of use. Desk design elements include the adjustability of the workstation (desk working level height, monitor height, touchscreen tilt), regulation of lighting levels, adjustment of the lighting environment and volume control.
Features
Another eDESK feature is wireless charging for smartphones. An integrated charging station allows you to simply place your smartphone on the designated spot and it will charge automatically.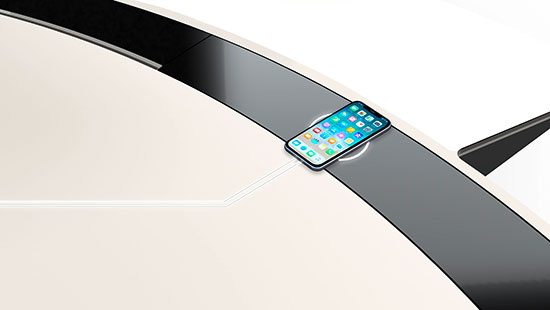 Clear Desk Concept
Continuing the integrated approach, foldable and freely configurable interface panels are embedded in eDESK instead of the usual control panel on the desk (optional). These interface panels allow individual and specific interface configuration including, for example, the integration of a radio unit. The built-in devices can be used as and when required and the push-lock system ensures a clear working space when interface panels are not required.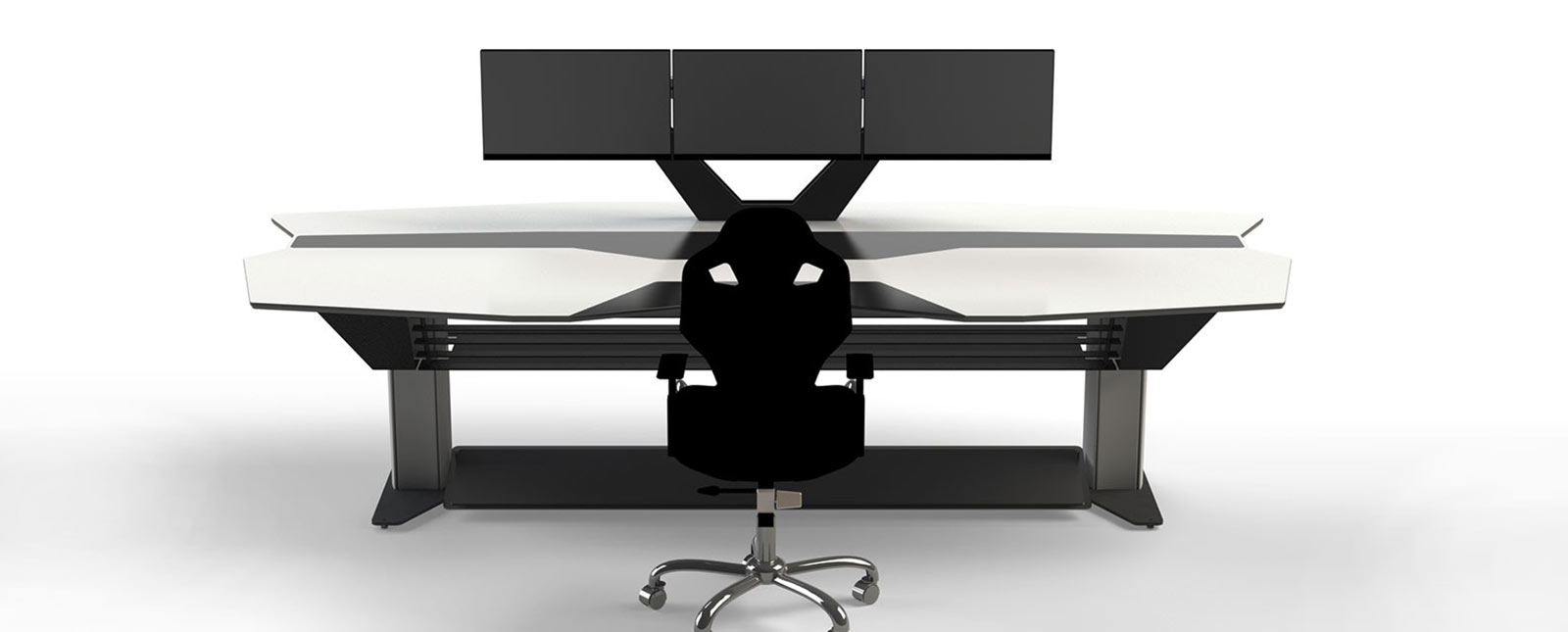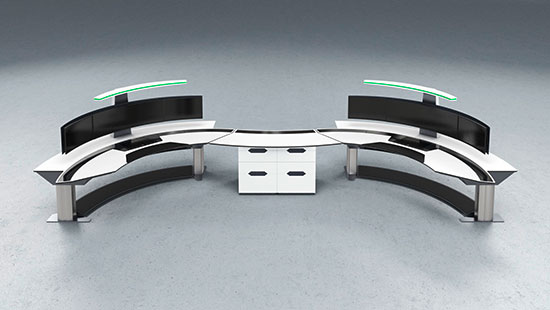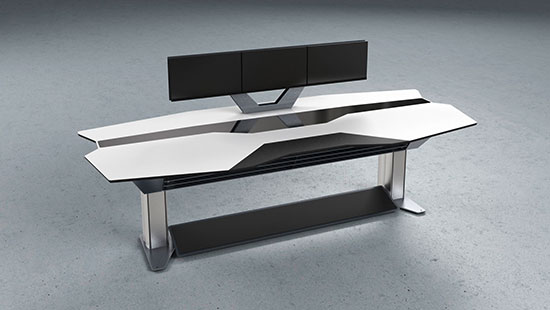 this may also be of interest to you