Are you ready for the ISDN shutdown?
Currently ISDN telephony is being replaced by Voice over Internet Protocol (VoIP). The Deutsche Telekom has already publicly announced the shutdown of ISDN connections in Germany in 2019. These are now replaced by IP connections, even for emergency calls.
The migration to Voice over Internet Protocol is already in full swing at eurofunk and our customers. The eurofunk Communication Solution IDDS UCiP is a modern, intuitive IP communication system designed for the control centers of tomorrow. New features such as IP emergency calls are integrated into the communications solution according to German Technical Guidelines for Emergency Calls 2.0, Federal Network Agency 2018.
The handling of IP emergency calls in IDDS UCiP requires the following:
Session Border Controller (SBC)
The SBC acts as a separator between the external VoIP connection and the IDDS UCiP system. All Session Initiation Protocol (SIP) trunks from telecom providers and control center IP telephone systems (PABX) operate through the SBC for security and interoperability reasons.
The SBC acts like a router between the IP telephone network and the IDDS UCiP system. It prevents unauthorized calls from accessing the system and can be considered a cornerstone of IT security. As the SBC supports a large number of services (e.g. encryption, speech transcoding, signaling protocol translation), it is possible to link different telephone systems simultaneously.
eurofunk supplies the SBC core component for the IP connection and customizes the external configuration according to the networks to be connected. The SBC distributes the SIP connections to the relevant IDDS UCiP Emergency and Telephone Gateways (ETGA). One SBC cluster is supplied for each control center/technical node with IP telephony connection.
It should be noted that the SBC is only used for VoIP-based telephone systems. Other communication infrastructures, such as intercom systems, which use other protocols in addition to SIP, are connected in the conventional way.
Firewall
The SBC does not provide full firewall functionality and therefore it is an extra system requirement. The firewall prevents unauthorized external access and protects the IDDS UCiP system from malicious, unauthorized and faulty connections or packets. There is one firewall cluster for each control center/technical node with IP telephony connection. Pre-existing firewall clusters can also be used and extended.
eurofunk Emergency and Telephone Gateway (ETGA)
The eurofunk ETGA processes external VoIP connections and makes them available to IDDS UCiP users in the usual way.
To facilitate the emergency call connection, the network operator specifies and supplies the remote devices required for the network. Network operators offer three different connection types for implementing IP emergency calls.
Type 1 (silver): Connection without multipath routing
Type 2 (gold): Connection with edge-disjointed multipath routing
Type 3 (platinum): Connection with node-disjointed and, by definition, also edge-disjointed multipath routing
How Type 3 works:
Separate emergency call routing is provided over fiber by the network operator. The two paths operate in active/backup mode and are never used simultaneously. This is handled by the Virtual Router Redundancy Protocol (VRRP). In the event of a switchover, only the IP transport path is changed. The SIP endpoint in the telecom network remains the same. Any calls that are in progress at the time are not affected by the switchover.
eurofunk always provides component redundancy for the SBC, firewall, ETGA and network (switch/router) as standard for the connection. This ensures that there is no single point of failure in the eurofunk system. This means that at least two ETGAs are always included. Depending on the number of SIP trunks or channels per SIP trunk to be connected, more than two ETGAs may be required.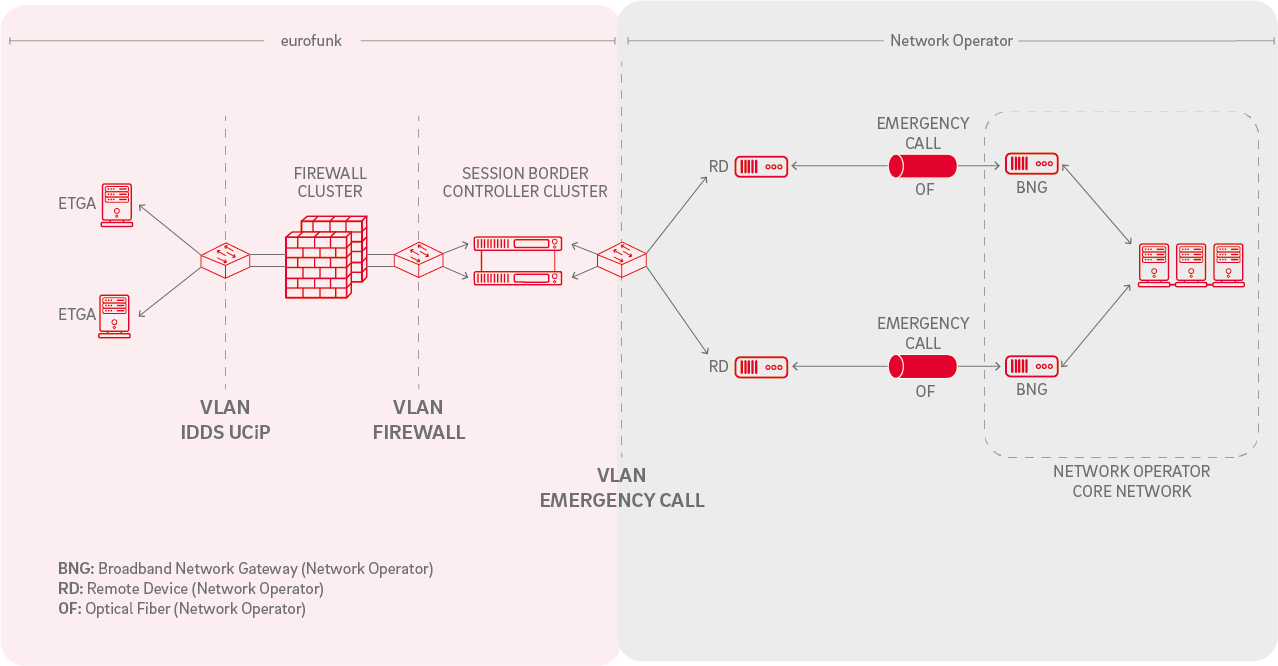 Type 3 Emergency Call Connection – An emergency call with a fully redundant connection
Current Development Status and Outlook
Feature development and expansion to include IP telephony is divided into several phases, the first of which deals with the functional requirements for IP emergency call integration.
This first phase covered implementation of the basic functional requirements and full IP emergency call connectivity. In 2019, joint tests were carried out with network operators and eurofunk is therefore optimally prepared for this technical change. All control centers should be converted by the end of September 2020. In Order to master this challenge it is necessary to achieve clarity with the telephone communications provider as quickly as possible and to commission eurofunk with the conversion implementation. Unfortunately we must also distribute resources according to the "first come first serve" principle.
Later phases will also include broadband services in accordance with the German Technical Guidelines for Emergency Calls 2.0, Federal Network Agency 2018. These have yet to be standardized and made available.